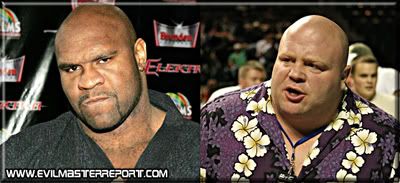 Former K-1 and PRIDE star Bob Sapp will fight an unnamed British heavyweight on April 21 at the Wembley Arena.

Sapp's fight on the Cage Rage 21 "Judgement Day" card marks his cage debut and his first fight outside of Asia.

Cage Rage introduced two possible opponents in a staged scuffle on Feb. 10 following the Dave Legeno-Dan Severn fight. Legeno delivered a challenge to Sapp, who stormed into the cage to accept the challenge. Robert "Buzz" Berry, who defeated Mark Buchanan two fights earlier, also challenged Sapp.

Notes: The UFC, in its return to the UK, is competing head-to-head with Cage Rage. Among the fighters confirmed so far for UFC 70 in Manchester are Michael Bisping, Forrest Griffin, Mirko Cro Cop, Cheick Kongo, and Andrei Arlovski...

The rumored Eric "Butterbean" Esch vs. Bob Sapp bout might be saved for a later date.