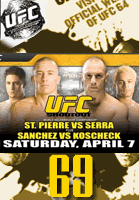 By Thomas Gerbasi

Two hometown heroes will return to Texas in April when middleweight contender Mike Swick and heavyweight standout Heath Herring compete in bouts on April 7th's UFC 69: Shootout card at Houston's Toyota Center.

Houston's Swick (10-1) took the middleweight division by storm after his stint on the first season of 'The Ultimate Fighter', winning his first four UFC fights in a combined five minutes and 10 seconds. In his fifth bout, against former title challenger David Loiseau last September, the 27 year old Swick showed he had the ability to go the distance as he pounded out a three round unanimous decision over 'The Crow'. April 9th will mark Swick's first Texas fighting appearance in over eight years.

A proud native of Waco who refers to his fighting style as 'Texas Jiu-Jitsu', Heath Herring (26-12, 1 no contest) has been a perennial contender in the heavyweight ranks for years who finally made his long-awaited UFC debut in January. And though Herring would lose a tough three round decision to unbeaten Jake O'Brien, 'The Texas Crazy Horse' is ready to erase the memory of that defeat and thrill his home state fans in person for the first time since 1997.

Opponents for Swick and Herring will be announced shortly.

UFC Welterweight Champion Georges St. Pierre defends his crown for the first time against TUF4 winner Matt Serra in the main event of UFC 69: Shootout, and the card also features a welterweight showdown between two of the division's brightest young stars, Diego Sanchez and Josh Koscheck.

To obtain tickets for UFC 69 – Shootout, click here.