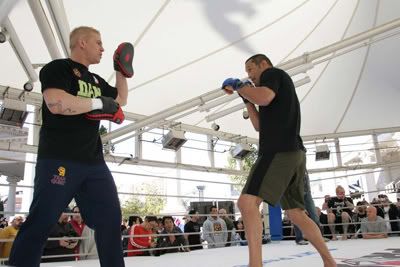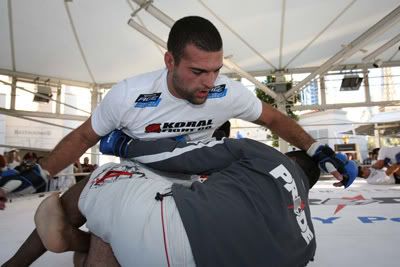 Dan Henderson, Sokoudjou, Wanderlei Silva, and Mauricio Shogun, appeared in front of a crowd of excited fans on February 22, 2007 for a training exhibition by the Roman Plaza at Caesars Palace.

PRIDE Welter-Weight champion, Dan Henderson, made his entrance with his fellow teammate Sokoudjou amidst great roars and cheers from the audience. Dan, who will be fighting against Wanderlei Silva for the Middle-Weight title at Saturday's big event, immediately grabbed the crowd's hearts with his amiable character and answered questions from the audience. When asked about his strategy for the upcoming match, he asserted confidently that it was to beat him up. After hitting a few mitts with his stand-up coach, Dan grappled with special guest, Jason "Mayhem" Miller.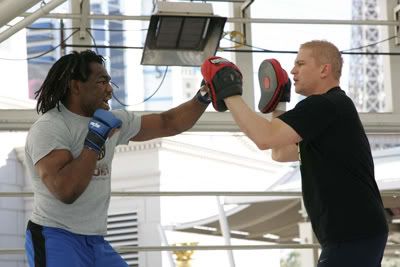 Despite being a newcomer to PRIDE with rather minimal fight experience, Sokoudjou, also known as the "African Assassin," received a warm welcome from the audience. He began with hitting focus mitts and judo throws, finishing up with a demonstration of Brazilian jiu-jitsu moves. His opponent, Antonio Rogerio Nogueira, also made a brief appearance.

Following Dan and Sokoudjou's public performance, PRIDE Middle-Weight champion Wanderlei Silva stepped onto the ring and greeted the audience in English, stating that Saturday's match will be a big fight. When the audience posed several questions to Silva such as who he wanted to challenge next, all of his replies led to one fighter, Chuck Liddell. Fans cheered in approval of his response. He spent most of his time attending to the crowd as he signed autographs and took pictures with fans who refused to leave Wanderlei alone.

Mauricio Shogun Rua made his appearance with the Chute Boxe Academy. Fans were not only able to see Shogun training on the ring, but a whole Chute Boxe work-out featuring Chute Boxe President, Rudimar Fedrigo.

Fans were treated with free T-shirts handed out by both Dan and Silva at the end of their public training, leaving them extremely satisfied.