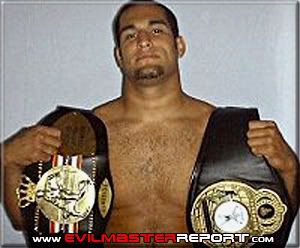 By Ben Fowlkes

Due to ongoing problems from a broken nose suffered in his February 2nd bout with Alex Schoenauer, the Silverbacks' Mike Ciesnolevicz (pictured) will miss the team's next contest on April 7th in Moline, Ill. Replacing Ciesnolevicz will be former "Ultimate Fighter" contestant and Miletich student Sam Hoger.

The loss of Ciesnolevicz, a consistent performer for the Silverbacks, is no doubt a blow to the Quad Cities team. Fortunately for coach Pat Miletich, he has a deep talent pool to draw from when it comes to finding replacements.

Hoger (6-3) brings a relative wealth of big time experience for a late substitute, although he has nowhere near as many fights as his opponent, Nevada Lions light heavyweight Vernon "Tiger" White.

White (24-30-2) has been a professional MMA fighter since 1993, competing in Pancrase, Pride, and the UFC, among others.

White has anxiously awaited the chance to make his IFL debut for the Lions, still in their first season. His first scheduled fight was blocked by the California State Athletic Commission, on the grounds that the disparity in records between White and then-Razorclaws 205-pounder Raphael Davis was too great.

Ken Shamrock's Lions managed a victory in that contest without the journeyman White, but they are obviously eager to have the "Tiger" back in the lineup against the defending champion Silverbacks.

Ciesnolevicz is not expected to miss more than one team match-up, but after complications stemming from the injury to Ciesnolevicz's nose, Miletich is opting to hold him out of action until he is completely recovered.

The Silverbacks will need a strong performance from Hoger and the rest of the team as they face an up-and-coming Lions squad in what is essentially a must-win match. With a loss to the L.A. Anacondas already hurting their postseason hopes, the reigning champs would almost certainly be out of playoff contention should they lose this contest.