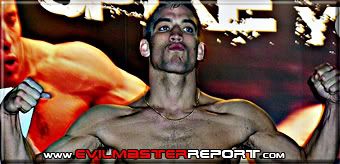 By Mike Doyle & Mike Russell

News on another Tompkins fighter, Sam "Hands of Stone" Stout, is that the TKO lightweight champion could be making a return to the UFC on one of the promotion's Ultimate Fight Night live events on Spike TV.

In two UFC bouts, the 23-year-old fighter has a 1-1 record with split decision win over highly touted Militech fighter Spencer Fisher and a submission loss to Kenny Florian. It was this loss against Florian that prompted Stout (11-2-1) to turn his training focus to his ground game – specifically his ground defense

The London-based kickboxer displayed his newly-honed skills when he defeated Montreal-based Brazilian transplant, Brazilian jiu-jitsu expert Fabio Holanda (4-5-0) at the above-mentioned TKO event, escaping from several submission attempts in the process. Holanda abandoned the bout after the second round, handing Stout his second straight TKO title defense victory.

"I'd love to be back in the UFC," said Stout. "I think I deserve to be there and I think that's the next step for me in my career."

According to Stout, he was supposed to fight on the next Japanese Shootbox card but the event was unceremoniously cancelled. In the meantime, Stout along with IFL standout Chris Horodecki, will corner members of Team Tompkins who will be fighting in Ultimate Cage Wars on April 7.