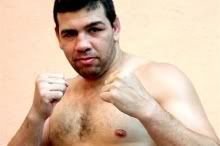 By Gleidson Venga

Out of the ring for 13 months, Pedro Rizzo (Pictures) returned to action last Friday by defeating Justin Eilers (Pictures) in Dallas, Texas. The Brazilian spoke to Sherdog.com about his victory.

"That was a good fight," he said. "We exchanged a lot of punches. I ran over him all the time. Eilers had a good streak. He had seven victories in a row, and I beat him. I'm very happy with my victory."

At the end of the second round Rizzo (15-7-0) said his lead left hand was fractured, and at the conclusion of the fight his right was noticeably swollen.

"I will have the surgeries as soon as I back to Brazil," the former UFC title contender said.