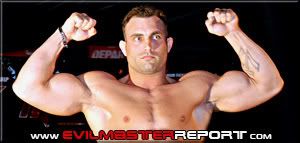 After defeating Ricardeau Francois in 20 seconds via submission due to punches this past weekend at Extreme Caged Combat 5, Roger Hollett (5-0) can now begin preparing for his next fight with Jason Day (14-6). The bout is scheduled to take place at the Maximum Fighting Championship 12, "High Stakes" on June 22nd in Edmonton, Alberta, and will feature two of the Nation's better 205 pound fighters.

Since losing to MFC Light-heavyweight Champion Victor Valimaki at MFC 10 last September, Day has been on a tear, winning 5 fights in a row, including a guillotine choke victory over Francois at KOTC "Amplified" in November. The pre-fight hype for this bout is already building, as Day has been quoted saying in a few interviews he believes he can beat Hollett in under two minutes. After the Nova Scotian fighter knocked out Edmonton Eskimo football player Mike Maurer at MFC 11 in February, Hollett responded to Day's comments in his post-fight, in ring interview, telling Day to sing a contract and prove it.

First up for the MFC organization though is the promotion's upcoming MFC "Unplugged" event on April 20th in Edmonton, which will be headlined by heavyweight Scott Junk taking on Dominic Richard.