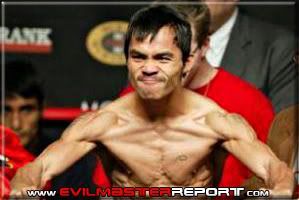 This week's boxing question was pretty straight forward; of Floyd Mayweather Jr. and Manny Pacquiao, who is, pound-for-pound, the best fighter in the world? And in a sign that things may be changing atop the mythical rankings 59.4% of respondents thought Grand Rapids , Michigan 's Floyd Mayweather Jr. was indeed the man.

And while Pacquiao couldn't out-tally Mayweather, the fact that over 40% sided with the wildly popular Phillippino fighter marks a seismic shift in thinking.

Two years ago the thought of anybody else even being considered as the best fighter in the world would've been meet with scorn and ridicule. Led by Mayweather's contractors over at HBO, everyone conceded that the loquacious stylist had a stranglehold on the lb.-for-lb. crown.

However, with marginal opponents like Victoriano Sosa, Henry Bruseles, and Sharmba Mitchell dotting his recent resume, and with Manny Pacquiao running roughshod over the likes of Marco Antonio Barrera, and Erik Morales, while holding Juan Manuel Marquez to a hard-fought draw, the pendulum seems to be swinging from Mayweather's technical genius to Pacquiao's blood curdling aggression.